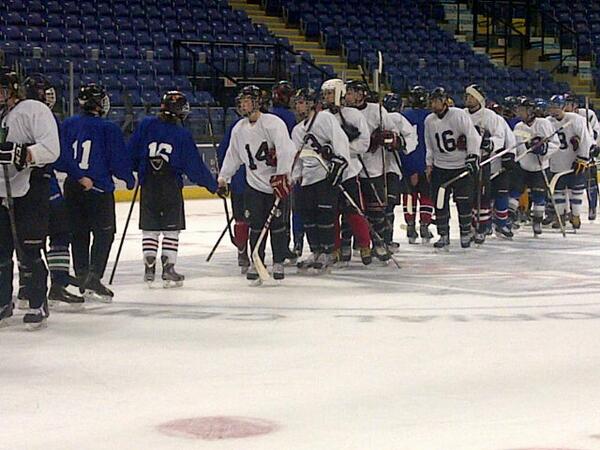 The traditional handshake after the final Rookie camp game credit: @victoriaroyals
Victoria Royals Rookie Camp wrapped up Sunday morning at the SOFMC with Team Blue's 8-2 win over Team White.
Victoria GM Cam Hope was impressed with the 97's and '98 born players overall, plus selected invites this year.
"We kept our camp small this year, and super competitive…divided into 3 teams and let them go at it. It's been a terrific week.
"
From the 55 man Rookie Camp about 20 players will progress to Main Camp, plus they'll add 7 to 9 guys who are invitees for a second look. There will be a considerable size difference between players, some 5 years apart.
"
…It's a little harder for the '98 born players to play against the '94-'93 age group – but that's part of the fun of it.
"
The two US born players F Ethan Frank (4th rd) from Omaha, and D Matt Hellickson (5th rd) out of Rogers Minnesota, by all indications were impressed by the city and had a positive experience thus far.
"They loved it…we went whale watching – in this case 'ocean watching', but we did see a whale from a distance..."
joked Hope.

"I think they had a great time. It's difficult for them because they have a tough decision to make, to commit to the WHL, but I think this went a long way towards helping them make that decision."
Main Camp opens Monday (Aug 26th) with returning players coming to camp bigger, stronger, faster after obviously having eaten their 'Wheaties'.
"Keegan Kanzig (Flames 3rd rd Pick) is 6'7 250, it looks like Jack Walker has put on some size and weight, Isaac Schacher (shocker) is still 6'5 but looks like he's put on some muscle…we're excited about what we're going to see (this) week."
With four 16 year old's playing regularily last season, (Hicketts, Walker, Fushimi, Gagnon) the club looks to be young again.
First round 2012 Bantam picks F Tyler Soy and D Chaz Reddekopp are highly touted to make the club. Along with Matthew Campese and Regan Nagy, who also got saw some WHL action last year chomping at the bit, competition at camp could be fierce.
"We've only got a few spots and they're open for the taking. It's going to be a battle…We've invited some '95 and '96 born players to our main camp who are going to try for those spots as well, it's going to be tough…"
As for goaltending, incumbent starter Patrik Polivka has been back from the Czech Republic working out and skating with the guys, and looks great – but as with all positions on the club, they're earned and not given according to Hope.
"It's anybody's game. Coleman Vollrath was terrific – he's going to try to be the starter. Michael Herringer was great, playing some games at the end of last year for us and he's going to look for a job."
Throw South Island Royal and 5th rd pick in 2012, Markus Daly into the goaltending mix along with rookie camp attendee Griffen Outhouse ('98 from Williams Lake), and Evan Smith who's coming up from Colorado to also try for one of the jobs.
Three Victoria Royals will be attending respective NHL Prospect Tournaments from September 5-9th.
D Keegan Kanzig, will be with the Flames team in the Young Stars Classic in Penticton during that time.
Ben Walker celebrates a goal
Attending the Traverse City Prospects Tournament will be F Logan Nelson (5th rd BUF '12), and F Ben Walker as an unsigned invitee by Minnesota.
Walker attended the Wild's NHL Development Camp earlier this summer, and clearly impressed the brass, resulting in his invitation.
Hope has past experience with the Traverse City Tournament, while being involved with the New York Rangers and believes Walker's invite is something special.
"It's just terrific. If a player gets invited, particularily in the case of Ben Walker as a free agent to go and play for Minnesota, that really means something."
F Steven Hodges (3rd rd FLA 2012) may not attend the Panthers prospects camp because of an injury that might require minor surgery. It bothered him at Florida's prospect camp and a little bit since, and has been seing some doctors to determine the best next step.

"I think the decision now, unless something changes in the next few days, is to have have some minor sugery at the end of the month which would put him out for a little while. It's something that isn't going to keep him out long, and hopefully will make him better and not have to worry about it."
The Camp concludes with the Royals' 2013 Intra-Squad Game on Wednesday, August 28th at 7:05 p.m. at SOFMC. Admission is by donation to the GoodLife Fitness Children's Foundation.
All on-ice sessions during camp are open to the public.
Find the training camp schedule here:
http://victoriaroyals.com/article/royals-announce-2013-training-camp-schedule
Victoria's first 3 exhibition games are in Everett where they face the Silvertips August 30th at 7pm, the Seattle Thunderbirds at 3pm Saturday Aug 31st, and the Tri City Americans Sunday Sept. 1st at 11:30 am.
The Royals have one home exhibition date on Saturday Sept 14th at 1:35 vs Vancouver at the SOFMC.
They conclude the 5 game pre-season the following afternoon in Ladner vs the same Giants at 2 pm.
Opening weekend for Victoria is on the road in Vancouver Friday Sept. 20th, and the home opener the following night against the same Giants.
Catch all the regular season Play by Play action on The Zone @ 91.3 FM
-Marlon Martens